Justin Bieber Drops New Collab-Packed Album 'Justice'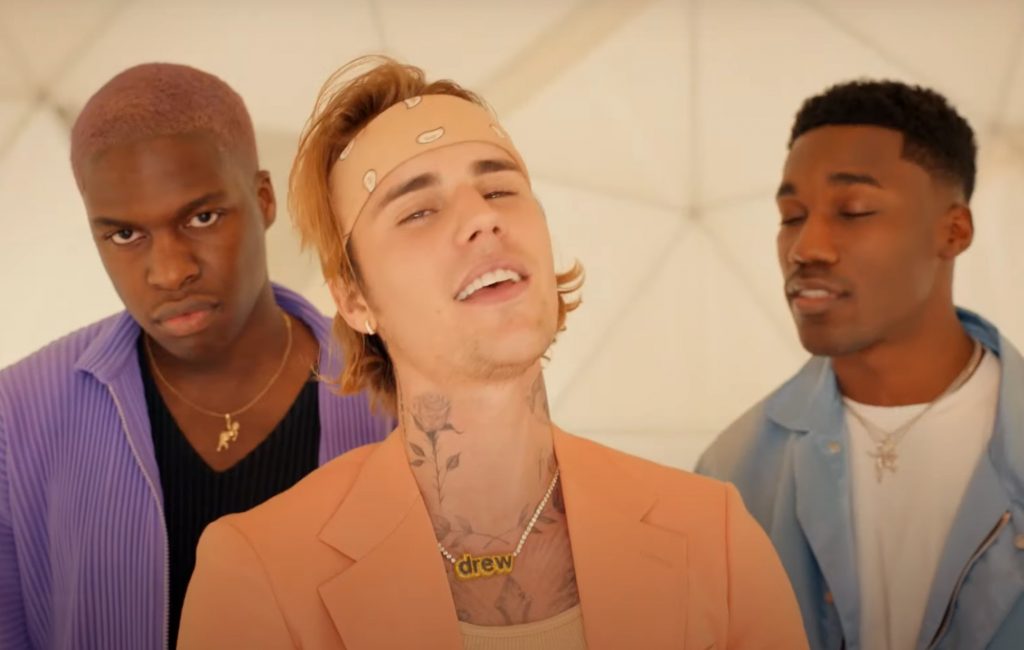 Justin Bieber appears to have rediscovered himself with his new album 'Justice', one of his most directed albums yet.
New Music Friday sees Justin Bieber return with his latest project 'Justice', a fitting album title after last year's 'Changes' didn't quite live up to expectations.
The collab-packed album features the likes of Burna Boy, Daniel Caesar, Giveon, Khalid and Chance the Rapper.
Rich in subject matter, the album plays out like the pages from a diary. From lessons in love and understanding in 'As I Am' featuring Khalid, to owning his past mistakes in 'Lonely', we hear Bieber at his most vulnerable.
The first four tracks are dedicated to his wife Hailey Baldwin, with the playful, acoustic-led 'Off My Face' and the more upbeat 'Deserve You' where he sings: "I need you more than I let you believe I do // When we kiss I'm alive and I feel brand new".
'Unstable' featuring The Kid Laroi, reflects on the moments Justin Bieber felt like he couldn't love himself, Hailey was there: "when I was broken in pieces, you were my piece of mind." The Kid Laroi compliments Bieber on this track and echoes the feelings of loneliness in his verse: "Every night when I would pray, you were an angel watching over me".
The album has also been affected by the death of George Floyd, the African-American man killed by a white Minneapolis police officer. Justin Bieber spoke out on several occasions during the Black Lives Matter protests, writing in one social media post: "I am committed to using my platform from this day forward to learn, to speak up about racial injustice and systemic oppression, and to identify ways to be a part of much needed change."
While the album is by no means a 'protest' album, rooted within the foundations of the album's soundscapes and sentimental ballads there are messages of morality, hope and standing for truth.In 'Hold On' Bieber mentions: "Looking for answers in a place unknown // You made the connection but you can't get close // painting stars upon your ceiling 'cos you wish that you could find some feeling."
That said, plenty of 'Justice' finds the pop singer offering upbeat pop songs designed as somewhat of an escape from the worlds chaotic climate. 'Somebody' produced be Skrillex features weighty drum kicks and an addictive chorus.
'Love You Different', which features a guest spot from Jamaican rising-star Beam, plays like a pop-infused afro-beat track. This collaboration created a new kind of link up and we're here for it.
'Loved By You' hears JB and Burna Boy team up to bring to life one of the best pieces of songwriting on the album. The joint effort from the two artists is a smooth one, dominated by JB's vocals which are complemented by and wrap around Burna Boy's heartfelt verse.
'Peaches' features dreamy vocals from both Daniel Caesar and Giveon, accompanying Bieber to create this smooth R&B-inspired pop song. The track is also accompanied by a music video. The Colin Tilley-directed piece sees the artists singing in various settings, including a car and a peach-coloured room where the artists sing among large neon lettering that spells out the song title – PEACHES.
Watch Peaches below:
All in all the album is certainly a step up from his last major project.
Have you heard 'Justice' yet? Let us know your thoughts @pieradiouk
What do you think of Justin Bieber's latest project? Let us know @PieRadioUK.