Pusha T and Jay-Z join forces for the third time on new single 'Neck & Wrist'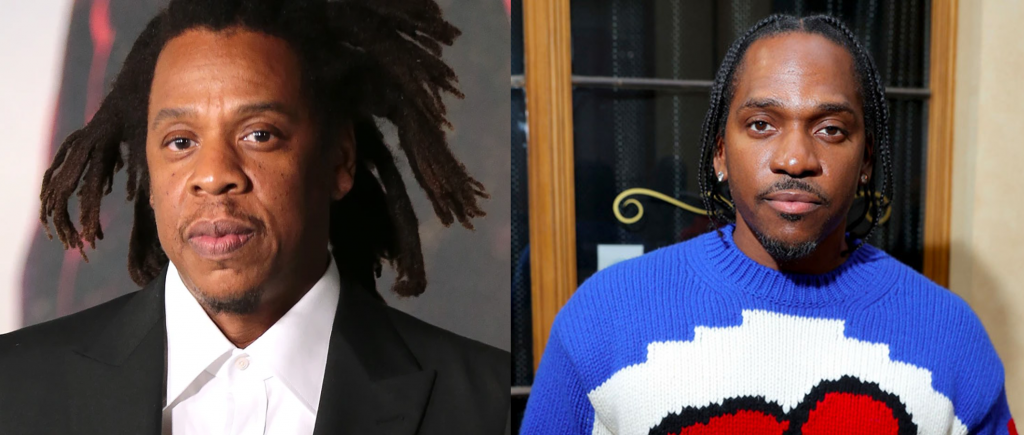 Pusha T and Jay-Z have dropped their new collaboration 'Neck & Wrist', with the single set to feature on Pusha T's upcoming fourth studio album Diet Coke. Pharrell Williams produced the track's melodic beat, while lyrically Pusha T and Jay-Z flex their success. Take a look at the lyric video which dropped today (6th April).
'Neck & Wrist' sees Pusha T offer humour while flexing; 'Bring the cameraman, we can shoot our own Narco.' Pusha T also uses a Game of Thrones reference that viewers of the series will enjoy. Jay-Z joins Pusha T's mood by flexing his wealth; 'I put your mansion on my wall, are you shittin' me?' Jay-Z also mentions rap legend The Notorious B.I.G., rapping 'They like, if BIG was alive, Hov wouldn't be in his position.' Some listeners may be surprised to hear Jay-Z acknowledge that his status in the rap industry may not be the level it is today if Biggie was still alive.
Pusha T's forthcoming album is the follow up to his 2018 third album DAYTONA, which was Grammy nominated for Best Rap Album.
Advertisment
Push dropped his single 'Diet Coke' last month (8th February), produced by Kanye West and 88-Keys. Check out the official music video, which has already gained over eight million views.
Jay-Z and Pusha T first collaborated on 'So Appalled' in 2010. Both rappers provided verses on the track for Kanye West's fifth studio album My Beautiful Dark Twisted Fantasy. Take a listen below.
Pusha-T's 2016 track 'Drugs Dealers Anonymous' was the duo's second collaboration. The track featured an appearance from Jay-Z. The video has since gained fourteen million views, check it out here.