SHOP LOCAL SATURDAY: Brew Tang – Manchester's hip-hop themed coffee shop
BREW TANG CLAN COMING AT YA IN MANCHESTER WITH THEIR KILLA BEANZ COFFEE
So today is one of the first posts we have done in a while about shopping local. Before that, we did posts on groups of local stores. But because you, our listeners, and we at Pie Radio love hip-hop, we felt this place deserved some individual recognition.
Brew-Tang is Manchester's hip-hop themed coffee shop. The name, if you haven't already guessed, is a pun on the iconic hip hop group Wu-Tang Clan. The owner appears to be a bit of a hip-hop fan after talking to him.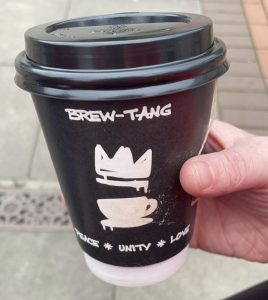 This "hiphoppin coffee shop" is a stone's throw away from the city centre and technically is in Salford. Just off Trinity Way, this little café do takeaways but will hopefully be opening up again for sitting in business on April 12th 2021.
They serve every kind of coffee, tea and hot chocolate drink you can think of. They also sell their "KILLA BEANZ" online if you fancy brewing your own at home. If you want the full set, they even sell their Basquiat brown logo cups and saucers too. My personal favourite however, as I visited during the run up to Easter, was their mini eggs brownies, which were perfect and nut free.
View this post on Instagram
Now that we can meet mates again, this place is the perfect little gem to grab a hot drink and edible goodies, whilst appreciating the hip-hop devotion and effort of the owner. I can tell you, like one of my favourite Wu Tang songs, this place "ain't nothin to f*** with".
If you have any questions, you can slide into their DMs and they will be happy to help.
Check out their IG page here