Megan Thee Stallion performs surprise rap verse at 2022 Oscars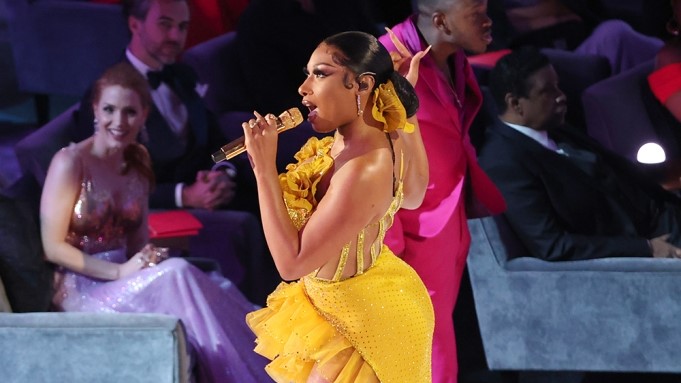 Houston rapper Megan Thee Stallion joined the cast of 'Encanto' at the 2022 Oscars ceremony yesterday evening (27th March). The twenty-seven-year-old performed a surprise rap verse to the Disney hit 'We Don't Talk About Bruno'. She included lines referencing the ceremony, including a shout-out to American actress and singer Zendaya. Megan, who has three number one hits, rapped 'Stars everywhere, I need to see Oscars, Zendaya over there.'
Check out Megan's performance here.
The 94th annual Academy Awards included the animated Disney film 'Encanto' which featured the hit song 'We Don't Talk About Bruno'. Despite the popularity of the track, the film's nominated song 'Dos Oruguitas' was submitted for Academy consideration over 'We Don't Talk About Bruno'.
Advertisment
Opening the song was Carolina Gaintán with Mauro Castillo, before other stars from the film joined in; Stephanie Beatriz, Adassa, Diane Guerrero and Rhenzy Feliz. The cast then turned to Megan to breathe new life into the heavily played track.
Jared Bush, director of 'Encanto', told Rolling Stone backstage that Megan's performance was a complete surprise. Bush said "[…] they kept a lot of secrets from us. We knew there was going to be some version of 'Bruno' tonight, […] it was going to be something unexpected and fun. I absolutely loved it, of course, and I think different people have found a way into the story and into our songs especially. Different people [have done] their own takes, so seeing Megan Thee Stallion do it is mind-blowing, absolutely mind-blowing."
'We Don't Talk About Bruno' went to number one of The Billboard Hot 100 chart, it is also the longest reigning hit for Disney in The US Billboard Hot 100 history. Additionally, it's Disney's first ever original song to top the UK singles chart.
Megan took to Twitter to express her reaction to the performance with her fans.